Northern Illinois, Central Illinois, Southern Illinois, and Southern Illinois are the state's four distinct regions. The Central Zone, which includes most of the Illinois River, is one of the state's most popular hunting grounds.
Most prime geese hunting areas in Illinois can only be reached by water. Some areas are shallow as well, but you'll need a duck boat, or kayak to get to the finest ones, so either bring one with you or rent one when you get there.
Goose Season Illinois 2022-2023
| IL Goose Season | Hunting Season Start Date | Hunting Season End Date | Note |
| --- | --- | --- | --- |
| Early Canada | Thursday-September 1, 2022 | Thursday-September 15, 2022 | |
| North Zone (Canada, Snow, and Brant Goose) | Saturday-October 22, 2022 | Thursday-January 19, 2023 | |
| White-fronted North Zone | Monday-October 24, 2022 | Thursday-January 19, 2023 | |
| Central Zone (Canada, Snow, and Brant Goose) | Saturday-October 29, 2022 | Tuesday-January 31, 2023 | Canada goose closed between (11/Nov-11/Nov) |
| White-fronted Central Zone | Friday-November 4, 2022 | Tuesday-January 31, 2023 | |
| South Central Zone (Canada, Snow, White-fronted, and Brant Goose) | Saturday-November 12, 2022 | Tuesday-January 31, 2023 | |
| South Zone (Canada, Snow, White-fronted, and Brant Goose) | Saturday-December 3, 2022 | Tuesday-January 31, 2023 | |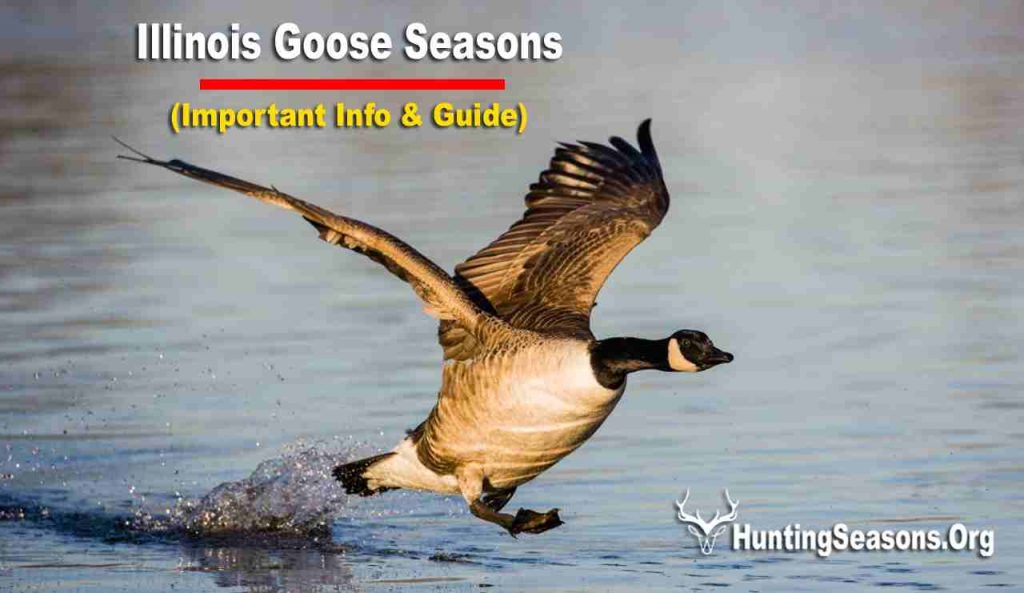 Bag Limits
Goose season in Illinois follows the same bag limits as regular duck season. find details below:
You may only hunt three Canada geese each day and nine overall.
Two white-fronted geese each day and six total are allowed.
Autumn and winter have a daily bag limit of 20 snow geese and no possession limit.
Northern Zone spring Light Goose Conservation Order begins January 20, Central, South Central, and Southern Zones February 1. All zones expire April 30.
Snow, blue, and Ross' geese have no bag or possession limits under the spring conservation order.
Hunting Location
The Illinois River valley is wonderful for geese hunting. The Illinois River begins at the Wisconsin state border and flows south and west through central Illinois to the Mississippi River in Grafton, Illinois, 90 miles north of St. Louis, Missouri.
Duck hunting on the Mississippi River is second to none, from the earliest teal to the final mallards and gadwalls.
Illinois' Department of Natural Resources recommends Woodford, Anderson, Rice, and Sanganois for waterfowl hunting. Meredosia NWR, Emiquon NWR, and Chautauqua NWR are just a few of the NWRs that let you go duck hunting.
Goose Area Map
Many of Illinois' public hunting locations need applications and random draws. End-of-July lottery winners gain blind rights for 1-3 years.
Below is a map showing the areas that are accessible during Goose season.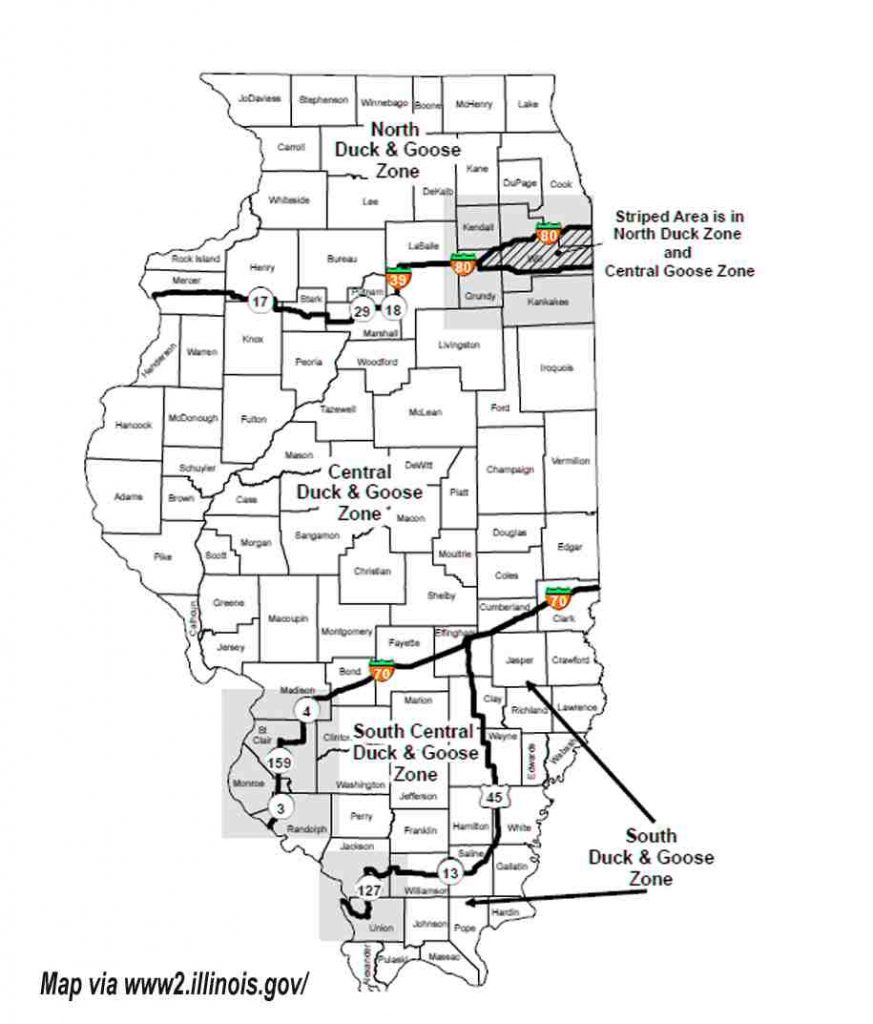 Hunting Time
Illinois allows shooting from half an hour before dawn to half an hour after sundown. Take into account the end of daylight saving time and the "fall back" period on November 6 when determining when the sun will rise.
Aim to have everything ready to go half an hour before sunrise so that you can get in a few shots before the sun comes up.
Regulation
Youth Season
The following provisions are specific to the Youth season:
Children under the age of 16 do not need to purchase stamps;.
Unless they are hunting on their own land, juvenile hunters must have a valid hunting permit and HIP registration/certification if they are 17 or younger.
All hunters above the age of 16 must have a federal waterfowl stamp;.
Throughout Youth Waterfowl Hunt Dates, no one above the age of 18 is permitted to hunt waterfowl or coots, even if they have a Youth License.
Licenses & Permit
You need a current Illinois Hunting, Sportsman's, or Apprentice License except you fall into one of these categories:
A person with a disability who lives in Illinois. Proof of a P2, P2A, H2, or H2A disability on a state-issued ID card, which may be obtained from the Secretary of State's office at any driver's license testing facility.
A member of the United States Armed Forces stationed in Illinois who is now on leave.
An injured war hero. Disability documentation from the Illinois Department of Veterans Affairs (at least 10% service-connected).
Everyone born on or after January 1, 1980 must pass the Department's Hunter Safety Training Course to lawfully hunt in the U.S.
All hunters under 18 in Illinois must be accompanied by a 21-year-old adult with a valid Illinois hunting license and a Youth Hunting and Trapping License. No one under 18 should hunt or carry a hunting gadget without parental supervision.
Beginners may hunt with an experienced hunter. This license is a once-only deal for locals and visitors alike. Less than 17-year-olds must be accompanied by a licensed adult. Anyone over 18 may hunt in Illinois with a 21-year-old licensed hunter.
Contact 1-(800)-832-2599 or visit the website for information about local Hunter Safety Education classes.
FAQ on IL Goose Season
When does goose season end in Illinois?
For all zones, the Illinois geese season ends on April 30th.
When is snow goose season in Illinois?
Snow geese season begins on October 22 in the North Zone, on October 29 in the Central Zone, on November 12 in the South-Central Zone, and on December 3 in the South Zone.
When is White-fronted goose season in Illinois?
Seasons for white-fronted geese begins on 24th of October in the North Zone, on 5th of November in the Central-Zone, and on the exact dates as duck season as in South-Central that is 12th of November and in the South zones 3rd of December.