For its well-liked Hunt by Reservation Program, which enables hunters to book hunts on private land for turkey and other game birds on a number of properties, ODFW is introducing a new pilot application procedure.
Through ODFW's Electronic Licensing System, hunters now have the opportunity to submit applications for hunts in advance (ELS). In addition to applying in person through a license sales agent, hunters can submit applications online by logging onto ELS and choosing a "Reservation Hunt Application" from the "Controlled Hunts" option.
Since hunters who draw a permit will be contacted by email rather than through their ELS account, the procedure will change slightly from usual regulated hunts. For additional information and step-by-step directions on how to apply in ELS, see the Hunt by Reservation webpage at myodfw.com.
For each of the four hunt times, each hunter will have two options (October, November, December, January). Make sure to submit your application for a search in October by the deadline of Sunday, October 2 at 11:59 p.m. Any hunts that are not selected in the lottery will be offered via the Hunt by Reservation website on a first-come, first-served basis, just like in previous years.
Only a few hunters were able to stay up late to secure a reservation when they became available online "ODFW Hunt by Reservation Program Coordinator Brandon Dyches revealed. The new procedure "allows everyone an equal opportunity of drawing a hunt, not only those who can be online at the correct moment," in addition to being simpler.
The deadlines for each hunt season are shown below. Hunters won't receive results notifications if the ELS system doesn't have their current email address on file.
| Hunting Season | Submission Closing Date | Email-Sent Results | At 10am, leftover permits are made available online. |
| --- | --- | --- | --- |
| Oct-2022 | Sunday, October 2, 2022 | Monday, October 3, 2022 | Tuesday, October 4, 2022 |
| Nov-2022 | Thursday, October 13, 2022 | Friday, October 14, 2022 | Monday, October 17, 2022 |
| Dec-2022 | Monday, November 14, 2022 | Tuesday, November 15, 2022 | Wednesday, November 16, 2022 |
| Jan-2023 | Thursday, December 15, 2022 | Friday, December 16, 2022 | Saturday, December 17, 2022 |
Find out more regarding the hunt by reservation program.
The cost of reserving a hunt is nothing, but prior to the hunt, hunters must buy a 2022 hunting license, a turkey tag, an upland validation, and any other required licenses. They must also abide by all program  rules and hunting laws. Per reservation, three hunters may go hunting (individual hunters can reserve a hunt and then assign up to two additional hunters to their reservation).
The fall turkey hunting season in Western Oregon opens on October 8 and lasts through January 31, 2023. Both the Willamette Valley and the Roseburg region have large populations of turkeys, although they are frequently situated on private property where hunting access is prohibited. In eastern Oregon, Hunt by Reservation also provides limited upland bird hunting, and it has plans to introduce geese hunting later this year.
In an effort to link landowners and hunters, the Hunt by Reservation Program was first introduced in 2019. The program, a collaboration between ODFW, Pheasants Forever, and Quail Forever, offers top-notch hunting opportunities on private property, while ODFW coordinates hunt logistics and manages for robust wildlife populations in the region.
Participants in hunting must adhere to all hunting laws and hunt ethically. According to him, the reason why the program is successful is because landowners and hunters get along well and cooperate. "We remove a hunter and the rest of their party from the program if a landowner reports any hunter misconduct, such as rudeness, unsafe shooting, property damage, violating program regulations or wildlife laws. The willingness of the landowners to engage is a valuable resource. We look after them well."
Source: myodfw.com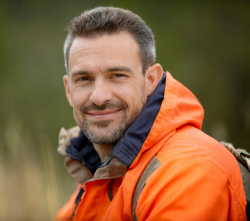 Latest posts by John Lewis
(see all)