The 2023–2024 dove hunting season in North Carolina begins on September 2, so it won't be long. This much-awaited season offers hunters a wonderful chance to experience nature, put their hunting prowess to the test, and support migratory game bird conservation. Before heading out into the fields, hunters should be informed of local, state, and federal laws, use safe hunting techniques, and get the necessary licenses. To guarantee a successful and happy hunting experience, we will outline the North Carolina dove hunting season for 2023 in this blog article, including key dates, bag limits, and rules.
Dove season in North Carolina 2023
The dove hunting season in North Carolina for 2023, which will be split into three parts between September to October, November, and December to January, has been announced by N.C. Wildlife Resources Commission. Hunters are permitted a daily bag restriction of three doves and a possession limit of nine doves during these periods. The same daily and possession limitations that apply to gun seasons for migrating game birds also apply to falconers. A current hunting license and a permit specifically for hunting doves are required in North Carolina. Dove hunting calls for quick-handling shotguns, and when hunting, responsibility and safety should always come first. Hunters can take advantage of the traditional outdoor pastime and breathtaking beauty of North Carolina during the approaching dove season.
| NC Dove Season | Season Start Dates | Season End Dates |
| --- | --- | --- |
| Mourning Dove & White-winged dove | 2-Sep | 7-Oct |
| | 11-Nov | 25-Nov |
| | 9-Dec | 31-Jan |
NC Dove Bag Limit
For the single species or the combined group, the daily bag limit for mourning or white-winged doves is 15.
Hunting Regulations
On Sundays, no technique is permitted for hunting migratory game birds, including doves.
Shotguns that can store more than three rounds must be filled with a one-piece filler that cannot be removed without dismantling the gun for dove hunting.
All hunters of migratory game birds, even those with lifetime permits, must register with the federal Harvest Information Program (HIP).
Each year, HIP certification is valid from July 1 through April 1 and ends on June 30.
Using salt, grain, fruit, or other bait to catch migrating game birds is against state and federal law.
After all salt, grain, or other feed has been removed from a location, it is considered baited for 10 days.
Hunters must observe safety precautions, abide by defined safe zones of fire, use the proper ammunition, keep their gun's muzzle pointing in a safe direction, wait to pull the trigger until they are ready to shoot, refrain from shooting at birds that are flying low, and avoid setting up decoys near power lines.
Hunters may pursue migratory game birds in agricultural regions where the grain has been dispersed due to regular agricultural activities.
A nearby N.C. State Extension Center may provide information on farming and planting methods.
The Wildlife Commission offers free hunter safety classes, and its Home from the Hunt campaign provides hunters with internet tools to stay safe while enjoying time outdoors.
Dove hunters are advised by wildlife law enforcement officers not to shoot at low-flying birds and to make sure they have the right ammo for their rifles.
A Wildlife Service Agent may sell you a license, or you can call them at 888-248-6834, 8 a.m. to 5 p.m., Monday through Friday.
Frequently asked questions: NC Dove Season.
When is the Dove season in North Carolina in 2023?
The Mourning Dove and White-winged Dove hunting seasons in North Carolina will last from September 2 through October 7, 2023, with a daily bag limit of 15 birds (individually or collectively). There will be a second season from November 11 to November 25, 2023. There will be a third season from December 9, 2023, to January 31, 2024. During certain seasons, the daily bag limit will also not change. Hunters must be aware that to hunt doves, they must possess a current North Carolina hunting license and migratory bird permit.
Do I need a special permit to hunt Dove in North Carolina in 2023?
Yes, a valid hunting license plus a permit specifically for hunting dove are required in North Carolina.
Are there any other hunting seasons that coincide with the Dove season in North Carolina in 2023?
The hunting seasons for migrating game birds (including doves) and ducks in North Carolina overlap in 2023 and take place from October 27–October 28 and November 4–November 25, as well as from December 18, 2023–January 31, 2024. The statewide early season for Canada geese runs from September 1 to September 30, 2023.
Can Falconers hunt Doves during the Dove season in North Carolina in 2023?
Falconers can hunt doves throughout the gun seasons in North Carolina, including the Dove season. While hunting during the gun seasons, the daily bag and possession limits of 3 and 9 also apply.
Dates & Regulations Source: NC Wildlife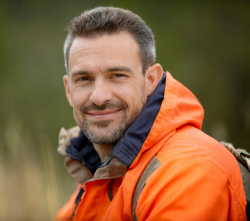 Latest posts by John Lewis
(see all)