The NCWRC organizes the state's annual deer hunting season, which takes place in late autumn and January. It regulates the state's deer population by establishing hunting seasons and bag restrictions for both bucks and does. Variations in antlerless deer bag restrictions may be made depending on the region. The NCWRC establishes and enforces all wildlife restrictions, including the state's five deer zones with their respective shooting seasons and bag limitations. To be successful, hunters must be aware of and abide by these rules.
NC Deer hunting Category & Season
North Carolina has three main deer hunting seasons: archery, black powder, and firearms. Black powder season normally begins around two weeks after the conclusion of archery season, which typically begins on the second Saturday of September and lasts until late September or early November. Each season also has its own set of regulations for what kinds of gear may be utilized.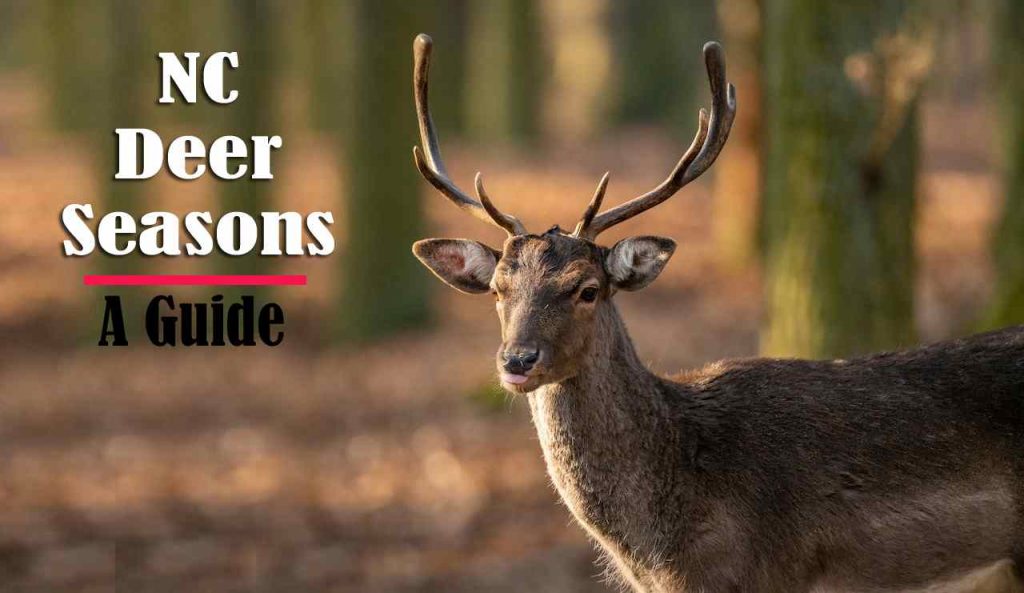 North Carolina's deer hunting seasons and zones are distinct and cannot be combined. If you wish to shoot an antlerless deer, you need to be informed of the either-sex seasons and the specific times of the year when you may legally do so. You should also be aware of the Urban Archery Season and Youth Deer Hunting Day. The most recent deer seasons are shown down below.
Below is the Latest Deer hunting schedule in NC
| NC Deer Hunting Season 2023-2024 | Hunting Start Date | Hunting End Date |
| --- | --- | --- |
| Northeastern | Archery: 9-Sep-23 | 29-Sep-23 |
| | Blackpowder: 30-Sep-23 | 13-Oct-23 |
| | Gun: 14-Oct-23 | 1-Jan-24 |
| Southeastern | Archery: 9-Sep-23 | 29-Sep-23 |
| | Blackpowder: 30-Sep-23 | 13-Oct-23 |
| | Gun: 14-Oct-23 | 1-Jan-24 |
| Central | Archery: 9-Sep-23 | 27-Oct-23 |
| | Blackpowder: 28-Oct-23 | 10-Nov-23 |
| | Gun: 11-Nov-23 | 1-Jan-24 |
| Northwestern | Archery: 9-Sep-23 | 3-Nov-23 |
| | Blackpowder: 4-Nov-23 | 17-Nov-23 |
| | Gun: 18-Nov-23 | 1-Jan-24 |
| Western | Archery: 9-Sep-23 | 1-Oct-23 |
| | Blackpowder: 2-Oct-23 | 14-Oct-23 |
| | Archery: 15-Oct-23 | 19-Nov-23 |
| | Gun: 20-Nov-23 | 9-Dec-23 |
| | Archery (Antlered Only): 10-Dec-23 | 1-Jan-24 |
| Urban Deer Season | Archery Only: 13-Jan-24 | 18-Feb-24 |
| | Gun - Either-Sex Seasons: First open Saturday (applicable gun season) | All open days (applicable gun season) |
| | Blackpowder - Either-Sex Seasons: First open Saturday (applicable blackpowder season) | All open days (applicable blackpowder season) |
N.C. Deer Hunting Season Map & Best Deer Hunting Locations
The Nantahala, Pisgah, Croatan, and Uwharrie national forests all provide deer hunting, with the Nantahala and Pisgah forests boasting the greatest deer harvests on public property in the state during the previous hunting season. Last year's hunting season yielded many deer in the B. Everett Jordan Game Lands in the Piedmont area, not far from Durham. There were also large deer tallies from the previous season in the Croatan and Uwharrie national forests.
For more details on the NC deer location map, you may visit the below websites:
Harvesting a Deer
Hunters in North Carolina must have their Big Game Harvest Report card and Big Game hunting license when hunting. Before removing a harvested deer from the crime scene, the hunter must record the date and month of the kill by punching or cutting the appropriate information from the report card. The deer may then be transported after being field dressed. Deer must be registered with the NCWRC before being processed or transferred to another party. You may sign up over the phone, on their website, or in a local office of their wildlife service agent.
Regulations
• When hunting deer, certain times of day are restricted. Except in managed hunting areas, firearms hunting is prohibited at certain times on Sundays.
• Hunting within 500 yards of a religious building is illegal. Certain counties forbid deer hunting with dogs, but a leashed dog with a portable light may assist hunters in finding a downed or wounded deer.
• Archers can kill a wounded deer with a.22 rimfire pistol.
• Hunting from an aircraft, boat, or automobile is forbidden in most regions, although some counties allow it for deer.
• When firearms are allowed, "hunter orange" must be worn for visibility.
• Some counties restrict deer hunting with artificial lights, electronic calls, and from a public road or right-of-way.
• Killing a deer in water over its shins is illegal.
• Hunters require permission to hunt on private property.
• During the season, you may take six deer, including two antlered deer. Bonus Antlerless Deer licenses don't boost the quantity of deer harvested.
• Deer hunting safety guidelines must be followed due to weapons and other potentially harmful equipment. Both bow and rifle hunters should cover their heads until ready to shoot.
• Hunters must know what they're shooting at and what's in the backdrop. Any injuries a hunter causes are their responsibility.
• When hunting deer, many people perch high up in a tree since the animals have no natural enemies from above and are thus more likely to approach the hunters.
Hunting License
North Carolina requires hunters to be at least 16 years old and possess a valid hunting license. For those who call North Carolina home, the state offers several different hunting and fishing permits: the Resident State Hunting License, the Resident Combination Hunting/Fishing License, the Resident Comprehensive Hunting License, and the Resident Sportsman License.
The basic and cheapest option is the Hunting license; the Combination license also allows fishing, and the Comprehensive license grants even more hunting rights. The Sportsman license is the pinnacle of outdoor enthusiast licensing, allowing its bearer expanded access to hunting and fishing. Deer hunting is one of the few types of hunting for which a license is not required for those under the age of 16, but a License-Exempt Big Game Harvest Report Card must be obtained. To go hunting in North Carolina, non-residents over 16 must first get a Nonresident State Hunting License. The 10-day and annual Nonresident State Hunting Licenses available to non-residents provide the same hunting rights as the year-long Resident licenses.
There are four options for getting a license right now. Due to the sensitive nature of the necessary documents, some licensing items may only be received by mail or in person from the Commission. There is a possible $2 transaction charge applied to each order.
Buy Online:
Buy Over Phone:
888-248-6834
(Monday-Friday, 8 a.m. – 5 p.m.)
Buy in Person:
Licenses can be obtained in person at the Wildlife Resources Commission's NCSU Centennial Campus location in Raleigh, North Carolina, address as below:
NCSU Centennial Campus,
1751 Varsity Drive,
Raleigh, N.C.
By Mail:
At NCWRC, 1707 Mail Service Center, Raleigh, N.C. 27699-1700.
Hunting License Fees
Note: For a complete list of Hunting License Fees, you may find it in our article North Carolina Hunting Seasons.
When does deer season start in North Carolina?
On September 9, 2023, all deer zones in North Carolina will begin their deer seasons. However, based on the deer zone and the hunting method, different hunting seasons and closing dates apply. Except for the Urban Deer Season, which concludes on February 18, 2024, the season typically terminates on January 2, 2024.