Delaware's white-tailed deer attract hunters, photographers, and wildlife lovers, generating millions of dollars for the state. Deer management to balance recreational interests and prevent damage to crops, landscaping, and automobiles is difficult and contentious. Delaware sportsmen shoot more white-tailed deer than any other game species, according to statistics. Due to the difficulty of hunting these secretive creatures and the reward of an abundant meat supply. We will look at the dates and rules of the Delaware deer hunting season in this post, as well as provide advice and insights for a successful hunt Now let's get started!
Delaware Deer Hunting Season
Delaware's deer hunting season extends from September to February and includes archery, shotgun, muzzleloader, handgun, straight-walled pistol-caliber, and antlerless seasons. Hunters must inspect deer within 24 hours and wear hunter orange during specific seasons. The state oversees public hunting grounds. The juvenile and disabled hunting season is open nationwide, and shotgun and muzzleloader hunters may take one antlered deer every license year. Handgun season lets hunters use handguns and straight-walled pistol-caliber rifles to hunt antlerless deer in October.
| Delaware Deer Season | Hunting Start Date | Hunting End Date |
| --- | --- | --- |
| Archery* (Statewide) | 1-Sep | 31-Jan |
| Crossbow* (Statewide) | 1-Sep | 31-Jan |
| Muzzleloader (Statewide) | 7-Oct | 16-Oct |
| | 23-Jan | 29-Jan |
| General Firearm-Also known as Shotgun Seasons (Statewide) | 11-Nov | 20-Nov |
| | 14-Jan | 22-Jan |
| Special Antlerless* (Statewide) | 1-Oct | |
| | 2-Oct | |
| | 17-Oct | |
| | 21-Oct | 24-Oct |
| | 28-Oct | 31-Oct |
| | 10-Dec | 18-Dec |
| Handgun and Straight-walled Pistol-caliber Rifle | In Wildlife Management Zones 1A and 1B, the season is closed. | |
| | 7-Jan | |
| | 9-Jan | 14-Jan |
| Youth and Non-ambulatory Hunt | 5-Nov | 6-Nov |
Delaware deer hunting regulations
Deer tags will be replaced with a Deer Harvest Report Card listing all available tags. The hunter must punch and date the card after harvesting a deer. The card should be stored as a full document with the deer registration number written in permanent ink. Hunters must carry the card and license. If a hunter buys more tags, their card will show both. Deer Carcass Tags must be attached to harvested deer that the hunter no longer has.
Deer hunters no longer need to tag their kills. Instead, students must enter the deer registration number on their Deer Harvest Report Card. Deer Carcass Tags may be received from the printed guide, the Digital DNREC account, or the FW website if the deer is no longer in the hunter's possession. The tag should contain the hunter's name, license number, harvest date, and deer registration number. Hunters may give or drop off deer to processors or taxidermists. Deer without hunters must have Deer Carcass Tags.
Delaware allows Sunday deer hunting on private property with landowner permission, designated public areas, and commercial shooting preserves during deer seasons. Only red fox hunting is allowed on Sundays. Visit the Sunday deer hunting webpage or contact the Wildlife Department for further information.
Delaware-licensed hunters get a Deer Harvest Report Card with 4 antlerless deer tags. $20 Excellent Buck Tags include a complimentary Hunter's Choice Tag for antlerless or antlered deer. Only antlered deer with a minimum outside spread of 15″ may utilise the Quality Buck Tag. Hunters may only take 2 antlered bucks (all seasons combined) with both tags, and all other deer must be antlerless. Extra antlerless deer tags cost $20 apiece. The method promotes antlerless deer hunting and exceptional bucks.
Non-resident hunting permits contain 4 antlerless deer tags and one Antlered Deer Tag and one Excellent Buck Tag for $50 each. The hunter's Deer Harvest Report Card will include these tags, which can only be used on deer with 3-inch antlers.
Delaware residents without hunting licenses must get an LEN and a Deer Harvest Report Card. They cannot produce deer tags. Free deer tags include 4 antlerless and 1 Hunter's Choice. LEN holders may acquire Premium Buck Tags for $20 or $50. The free Hunter's Choice Tag and the paid Quality Buck Tag enable them to harvest two antlered bucks in all seasons.
A Premium Buck Tag may only be used on an antlered deer with an outer antler spread of at least 15 inches—roughly the space between the deer's ears when held straight out in the "alert" posture.
Hunters must report their deer within 24 hours. People may register their deer online or by answering questions on a toll-free phone. They must disclose antler spread and points if they harvest an antlered deer. The Deer Hunting website has a ruler for measurement. Hunters will get a deer harvest registration number after completing the questions. They should write it in ink on their Deer Harvest Report Card to prove the animal was examined. Hunters must show their deer registration number to butchers and taxidermists.
Deer hunters may use revolvers or single-shot pistols with barrel lengths between 5.75 and 12.5 inches and straight-wall handgun ammunition in.357 to.38 or.41 to.50 caliber with a maximum case length of 1.82 inches. Under-18s need an adult. The firearm must be slung or holstered and carried openly. Only privately held properties south of the Chesapeake and Delaware Canal and certain state-owned grounds allow handgun hunting. State law prohibits handgun hunting on Sunday, January 8, 2023.
Rifles with straight-wall cartridges of.357 to.38 caliber with a minimum case length of 1.25 inches and a maximum of 1.82 inches, or.41 to.50 caliber with a maximum case length of 1.82 inches, can be used for deer hunting south of the Chesapeake and Delaware Canal during November and January General Firearm Deer Seasons or January Handgun Deer Season. These rifles can employ open, metallic/mechanical, optical, and telescopic sights and hold three rounds. They can't be utilized for red foxes, coyotes, or Extraordinary Antlerless Deer Seasons.
Deer hunters may use a single-shot antique or genuine replica black powder Sharps rifle of.45 to.60 caliber with paper-patched bullets during shotgun deer season.
Hunting crossbows must be at least 125 pounds and made after 1980. They need mechanical safety and a scope. They cannot be driven when cocked.
Vertical bow hunting requires a 35-pound draw weight for compound, re-curve, or longbows.
Deer hunting on private property allows bait distribution and hunting.
The University of Delaware and Delaware Division of Fish and Wildlife use ear tags and radio transmitter collars to study deer ecology and hunter harvests. Hunters may legally harvest tagged deer and report them by calling the ear tag number. The groups will inquire with the hunters. Hunters may call after a few days.
Lawful firearm deer hunting requires hunters to wear hunter orange on their head, chest, and back, totaling 400 square inches. Small game hunters on State Wildlife Areas must comply. 400 square inches of hunter orange must be set 10 feet outside a ground blind and at least 3 feet above the ground.
On its website, the Division lists the top hunter-taken deer based on net Boone and Crockett scores. Whitetails satisfying minimums for bow, muzzle-loader, handgun, shotgun, and straight-walled pistol-caliber rifle kills are eligible. Hunters may make an appointment with the Division or submit a score sheet from an official measurer of a recognized organization to score their deer's antlers after 60 days. 302-735-3600.
Delaware Hunters Against Hunger enables hunters to donate lawfully caught deer to contracted business processors or Division of Fish and Wildlife walk-in coolers. Participating charities get donated venison. Out-of-state deer cannot be donated. The DHAH website lists deer processors and walk-in coolers in Sussex, Kent, and New Castle counties. For further information, contact the Division.
On November 5 and 6, 2022, youth aged 10–15 and non-ambulatory wheelchair users may hunt deer. Child hunters ages 13–15 must hold a Delaware junior hunting license and pass a Hunter Education Course and be accompanied by an adult over 21. Bag limitations and deer registration apply. Delaware-licensed adult companions cannot hunt with firearms. Private, public, and stand-allocated State Wildlife Areas are available to the hunt. Hunters must sign up 1.5 hours before authorized shooting time for the lottery drawing. Hunters may choose from 17 Steamboat Landing and 12 Fischer Tract tag boards for Bombay Hook National Wildlife Refuge's juvenile hunt on a first-come, first-serve basis. See Youth Hunting Information for more.
Hunting hours for deer are from half an hour before sunrise until half an hour after sunset.
Delaware prohibits buying, selling, transporting, or possessing deer or deer parts, save for properly slain deer skins. Taxidermists and butchers cannot sell deer taxidermy or meat. Unclaimed meat and item processing costs are also unlawful.
Deer Management
Delaware's deer management programme has increased the deer population and range by liberalizing harvest seasons and bag limitations. This has created a robust, sustainable white-tailed deer herd with record-setting harvests. Delaware's 18 Wildlife Management Zones provide several hunting possibilities on 10% of state-owned property. Delaware's modest size may make it seem unsuitable for white-tail trophy hunting, but its quality buck harvest per square mile is similar to other Midwest deer hunting locales.
Delaware's Division of Fish and Wildlife conducted its first airborne infrared deer population study in 2005. The assessment found deer numbers surpassing Delaware's carrying capacity in several regions. Humans and deer are mingling increasingly due to urbanization and habitat degradation, causing agricultural and landscaping damage, deer-vehicle crashes, and disease transmission. The Division and the Division of Parks and Recreation conduct numerous regulated deer hunts in New Castle County each year to combat urban overpopulation.
Deer License
Obtaining a Delaware hunting license is required if you are planning to hunt deer there. Whether you are a resident or a non-resident, your age, and the length of the license all affect the cost of the license.
A $39.50 resident adult hunting license is valid from July 1 through June 30 of the following year. Non-resident licenses cost $80.50. If you're exclusively hunting deer, you may get a Delaware deer hunting license, which is cheaper. Adult deer hunting licenses cost $25.50 for residents and $130.50 for non-residents.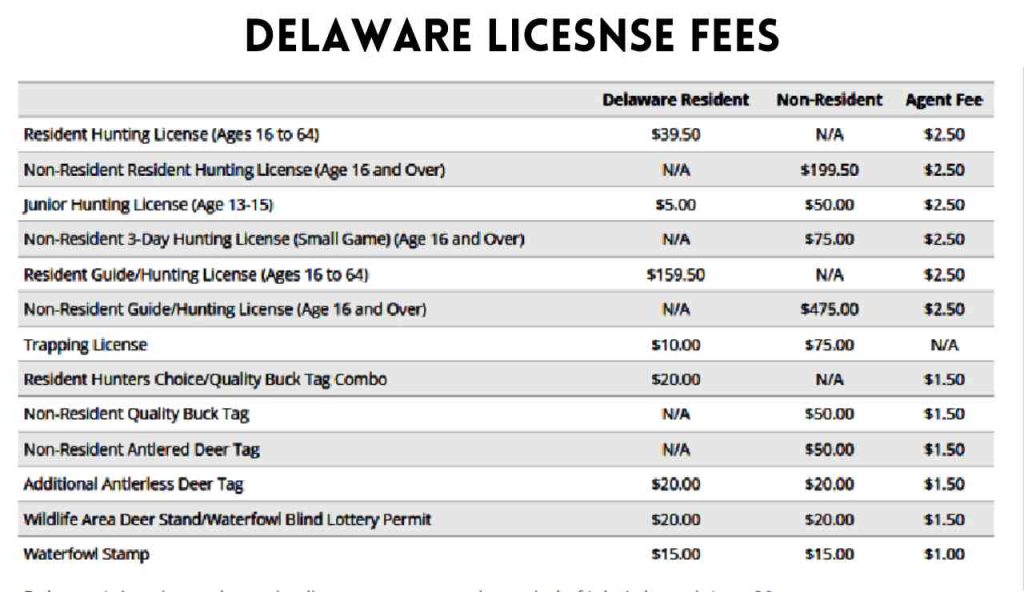 Junior hunting licenses are cheaper for hunters 13–17. Junior hunting licenses cost $5.50 for residents and $15.50 for non-residents. Muzzle-loader deer hunting licenses cost $10.50 for locals and $40.50 for non-residents. January shotgun deer hunting licenses cost $25.50 for locals and $130.50 for non-residents.
Hunters must buy a $10 Conservation Access Permit regardless of age or licensing status. Access Division of Fish and Wildlife wildlife areas with this pass.
Contacts
Visit the DNREC Division of Fish and Wildlife website or call 302-739-9912 for Delaware hunting information. Hunters may submit deer harvests online at ePermitting DNREC. 302-735-3600 for system issues. The Game Theft Hotline Toll-Free at 1-800-292-3030 may answer hunting legal inquiries from the Division of Fish and Wildlife Operation. Contact Delaware's state forests for hunting information.
FAQs related to DE Deer Hunting
What are the legal methods for hunting deer in Delaware?
The legal methods of hunting deer in Delaware include archery equipment, muzzleloaders, and shotguns.
When is deer hunting season in Delaware?
Deer hunting season in Delaware typically runs from early September to late January, with specific dates varying depending on the hunting method and location.
Do I need to wear blaze orange when hunting deer in Delaware?
Yes, all hunters in Delaware are required to wear at least 400 square inches of fluorescent orange material on their head, chest, and back when hunting during any firearm deer season.